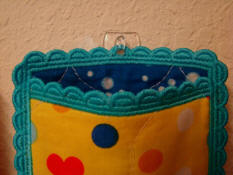 (Click image to enlarge)
This shows a glasses case hanging from a Command brand hook. These are the "Command Clear" type, which means that the adhesive strips are clear. These hooks can be removed and reused without damaging walls. The type shown here is a decorator hook, which is meant for holding wires, such as strings of Christmas lights. This picture also shows the use of pre-quilted fabric for the glasses case design.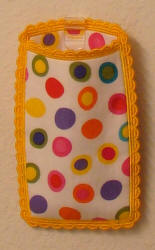 (Click image to enlarge)
Command brand also makes these clips, called "Fridge Clips." They work well for holding designs like this without a loop.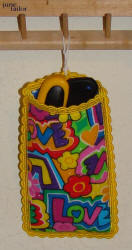 (Click image to enlarge)
If you want to hang your case from a larger hook, you can use one of our cords (from set E331D). Here, the case is shown holding a rotary cutter and hanging from a thread rack.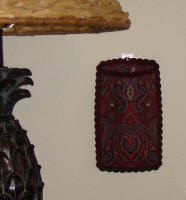 (Click image to enlarge)
Here, the glasses case is shown hanging on a wall near a reading lamp.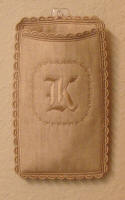 (Click image to enlarge)
You can personalize your case with a monogram, name, message,
or any decorative embroidery you choose.